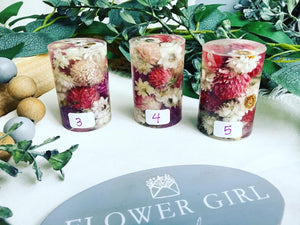 The Crafty Cooper
'Wild in the Garden of Eden' Flower Girl Stopper Blank
Regular price
$18.00
$0.00
Unit price
per
Please visit the home page for info on blank and tube prep. Stopper blanks measure 1.5"x2.5". It is recommended that you follow the instructions that I have provided for optimal results.


Turning Tips:
1. Use sharp tools
2. Turn at a high rpm (3800rpm-3900rpm)
3. All flower blanks will require CA to fill in voids while turning. I prefer Mercury Thin, Medium, and Thick. 
4. It is recommended to seal finished product with CA to protect the wood and flowers.
5. If you have any additional questions on prep or turning Flower Girl Blanks please send me a message or email. 
---